Katakamukha, the mudra of reward


Protection, serenity, wisdom… all this is literally within reach thanks to this ancestral knowledge. Discover the secret science of Mudras (ritual gestures using a hand developed over the centuries by the Greatest Yogis and in particular, the katakamukha mudra protection.
Katakamukha Mudra protection yoga – How to do this protective mudra
It is translated by "opening a bracelet".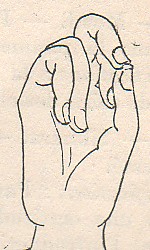 Meaning: collecting flowers.
Ritual:
Perform this gesture on a waxing-moon night while you count to 21 between 5 and 6pm to see your efforts, donations and generosity rewarded.
If you have done something significant to do good, the good you did will be returned to you a hundredfold over the 9 weeks that follow your Ritual.
Discover some more interesting articles from Padre: